Hello, my name is Lexie (Yes, that is my real name) You can also call me Lex for short. I'm 18 years old! I love everything 1960's. I sometimes wish I lived in that time period.



I claimed Mike Smith in Claim-A-Person



I adopted Mike Smith from Get-a-Celebrity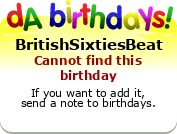 I'm always listening to music NON-STOP! I literally can't go a day without it!